Invelo specializes in real estate investment, not onboarding. Rather than fumbling around finding the flow that works best, they hired an expert.
Justin Silverio, the founder of Invelo, knew that a well-designed onboarding flow was critical to his product's success. But he wasn't sure how to build one—at least, one he could feel confident about.
Justin asked me to provide an Onboarding Audit of their marketing site and onboarding flow, and a Trial to Paid Growth Plan to improve trial-to-paid conversion.
Overview: Invelo helps real estate investors close more deals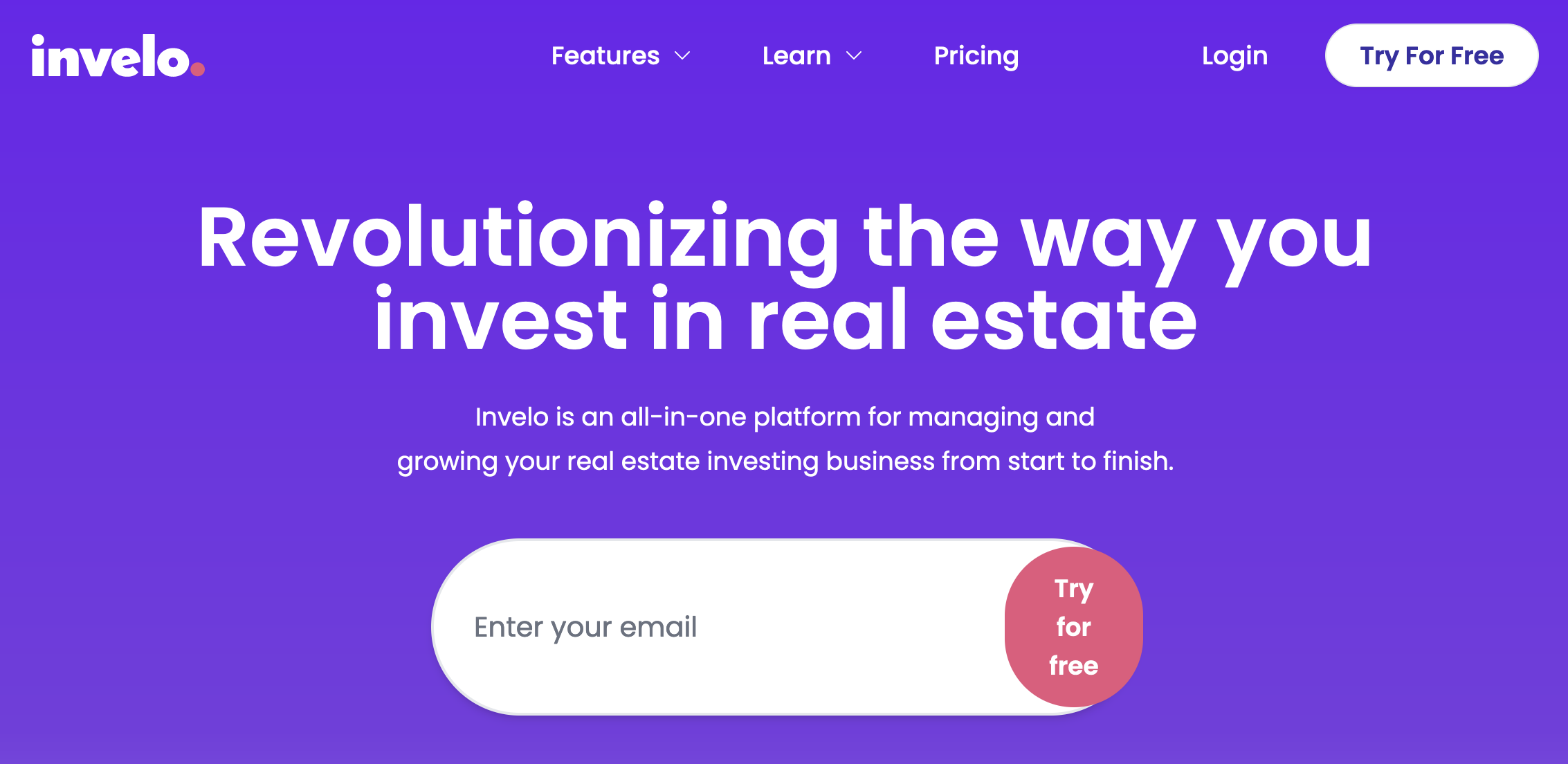 Invelo is a clever SaaS application aimed at helping real estate investors strengthen their sales pipeline from beginning to end.
It makes building a list of qualified prospects super easy, creates intelligent marketing campaigns, and includes a built-in CRM to manage your sales pipeline.
Problem: Invelo's onboarding wasn't as good as their product
Invelo was about to launch their new product, which sparkled. But they needed an onboarding flow to match it.
They didn't have the expertise to build a fantastic flow
Justin knew how crucial it is to the success of the product to nail the onboarding. But his team lacked the expertise to truly make their flow shine.
They needed someone they could trust
Invelo was still building up their customer base, and they didn't have massive revenue. That meant they couldn't waste time and money trying out several different consultants—they needed someone who could deliver value for them immediately.
Justin says:
Pull users to value—quickly
Earlier versions of Invelo's onboarding flow felt like they were doing too much. It wasn't always clear to users what onboarding steps they should be doing or how those steps would help them accomplish their "job to be done."
My recommendation: Be minimal and focused. Get the users to their "Aha!" moment as quickly as possible. And remove anything that's not contributing.
Create a flow right from the first touch
Onboarding starts when a user touches the site. And it ends when your user is happily using your product and finding value in it. (Really, in some ways onboarding doesn't end.)
Justin and the Invelo team needed guidance to ensure that their process was detailed and complete.
My recommendation: More than just UX tweaks in the app, I suggested changes right down to Invelo's marketing copy, pricing page, and drip marketing strategy. This aligned visitor expectations with what they got after they signed up for an account.
Justin says:
Get the team on the same page
When the team is small, everyone touches onboarding—not just customer success. Justin made sure to include his whole team in our meetings so everyone had a chance to understand what was going on, they could ask questions, and they could see how they were contributing.
My recommendation: Ensure that everyone is on the same page with the onboarding vision and strategy. This ensures your team can move faster and in the same direction.
Justin involved this whole team on our calls:
Results: A step-by-step plan to build a high-converting onboarding flow
I provided Justin and his team with:
An annotated screen-by-screen walk through their marketing site and onboarding flow, detailing highlights and opportunities to improve
An onboarding plan that aligned the Invelo team on their customer segments, jobs to be done, ideal onboarding flow, analytics to measure, drip emails to send, and more
A prioritized list of quick wins to improve onboarding and conversion
A prioritized onboarding plan for multiple customer segments
I laid out the success milestones for each of Invelo's customer segments and the actions their team needs to take to get there.
Justin loved it:
Real value
I made sure the plan was aimed at delivering value and increasing conversions. It worked:
An expert team member
Justin noted that another piece of the value for him was having an expert he could reach out to in the future. Being connected to an experienced advisor became part of the package for him.
Invelo loved the work I did for them
Justin was happy with the work:
Quit second-guessing your onboarding strategy: get a customized trial-to-paid conversion plan
Onboarding is critical, but you're busy being an expert in something else (for Justin, it's real estate). Let me be your expert in trial-to-paid conversion.
I'll figure out what's holding you back, give you a detailed plan you can implement immediately, and provide you with the perspective that comes from years steeped in SaaS onboarding and conversion.
Ready to convert more trials to paying customers? Let's chat.